Despite its small size, Umbria is truly a region that offers so much, from art to gastronomy, through musical events and nature to be discovered. Just the small size, it allows to run well between the various villages, Umbria lends itself very well for a weekend , indeed, one could study itineraries for many weekends without ever getting bored. Here are some ideas for an itinerary through the villages of Umbria.
Weekend in Umbria: relax among the villages
If we don't know where to go for a weekend in Umbria , we can follow this itinerary: Spoleto, Fonti del Clitunno, Norcia or Città di Castello to conclude at Torgiano.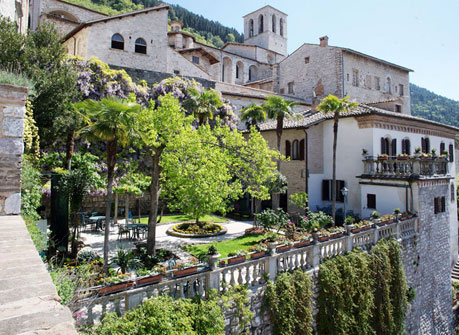 First day: stop in Spoleto
Here will be the basis for our weekend . We can sleep in a B&B or farmhouse immersed in the greenery of this region. What to see in this Umbrian village ? First of all we can get lost in the alleys and squares, to visit Spoleto and its Romanesque cathedral and the extraordinary frescoes by Pinturicchio and Filippo Lippii.
First day: break at the Fonti del Clitunno
About half an hour from Spoleto – in the locality of Campello – we can find this oasis of peace: a garden with a pond surrounded by willows and cypresses. A worthy break in visits to the Umbrian villages , where we will find silence and enchanted beauty on the edge of reality. When we decide to get out of this world of fairy tales to go to dinner, the advice is to return to Spoleto and taste local products such as spelled soups, lentils, pecorino umbro, washed down with good local wine.
Second day: stop in Norcia
This village of Umbria is recovering after the earthquake, so not everything is accessible. What to visit in Norcia ? You can't enter the church of San Benedetto and the historic buildings, but taking a walk through the streets of the town is worth it. In particular we will be captured by the smells of the pork butchers, and it is forbidden not to stop for lunch to eat the black truffle from Norcia and the other typical products.
Second day: visit to the City of Castello
During the weekend among the villages of Umbria , a valid alternative to Norcia can be Città di Castello. The town is famous for its skyline: numerous towers and bell towers indicate the centuries-old struggle between religious and civil power.
Last stop in Torgiano
We end the itinerary in this village of Roman origin, famous for its wine. A must-see in Torgiano to end the weekend in Umbria is a visit to the wine-making museum.
Weekend at the Spa in Umbria
For those who feel particularly stressed, here is the solution: a weekend in Umbria in a facility with the Spa . The region lends itself particularly well to this type of structure, here are born many wonderful corners of paradise: Spa, beauty farm or wellness centers that are ready to pamper you and let your spirit regenerate before returning to everyday routine.