In a rough and semi desert territory like the Bosnian one, rises the city Mostar , symbol of the Bosnian renewal after the war that marked the Balkan area.
After conflicts that have brought so much destruction, the melancholy Mostar has been able to raise its head, returning to shine, so much so that it seems like something out of fairy tales. Its symbol par excellence, the Stari Most bridge , was rebuilt together with the wonderful old city, with buildings and monuments dating back to the Ottoman Empire.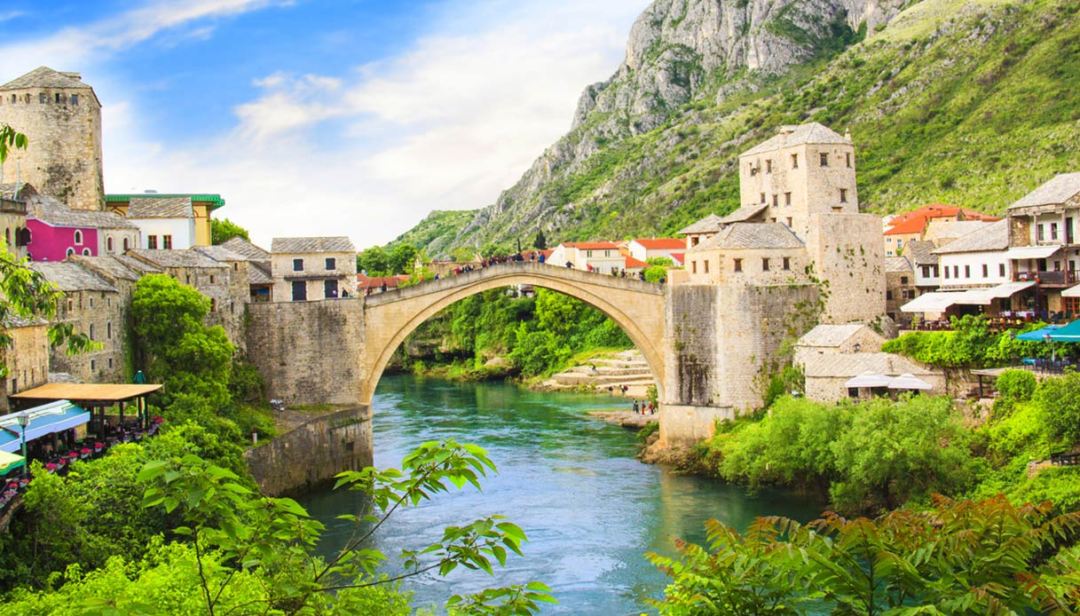 Mostar is a city with a double soul: on one side it still shows signs of devastation, cemeteries built in place of parks, dilapidated buildings and abandoned courtyards; on the other, it shows fair signs of its rebirth, which can be admired in modern universities, squares, bars and restaurants.
Mosques, Catholic and Orthodox churches, squares and palaces. Anyone who thinks they can only touch and escape to visit the Stari Most is mistaken, Mostar is a city of incredible charm that deserves to be lived and fully visited. Let's find out together, what to see in Mostar and 5 good reasons to visit it .
5 things to see in Mostar
The quality of life
Sleeping in Bosnia is generally very cheap, but eating is even more. In Mostar you can easily enjoy a dinner in the most touristic and central place of the city, enjoying one of the many traditional Bosnian dishes, without worrying about the bill.
The Stari Most
Icon of the city and a UNESCO World Heritage Site : the fame of this bridge is known throughout the world, so much so that it is the main attraction of Mostar.
Born and conceived in 1557 by order of Suleiman the Magnificent , as a functional structure to connect the two banks of the river, it replaced an old suspension bridge over the Neretva river, which for years has divided Mostar between Croats and Bosnians, as well as Catholics, Orthodox and Muslims.
Known for its graceful elegance and the ingenuity of its masonry arch, it was rebuilt and reopened on 22 July 2004, after being destroyed during the terrible and bloody interethnic conflict in Bosnia and Herzegovina in 1993.